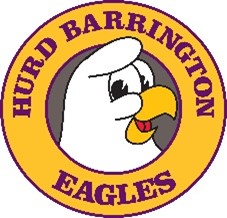 Dear Students, Parents, and Staff,
Welcome to Hurd Barrington Elementary, home of the EAGLES! At Hurd Barrington, we believe that education is a partnership among children, their families, and our school. We hold the firm belief that all children can learn and succeed in a safe environment. Our high expectations lead our students to become lifelong learners, critical thinkers, creative problem solvers, skillful communicators, and responsible, respectful, and curious citizens.
Embedded in our mission and vision is the belief that every student, regardless of their background, can learn. To make this a reality, we provide a safe and secure learning environment where students have equal access to a challenging and rigorous core curriculum and a variety of enrichment activities.
To our students, may you come curious and ready to learn this school year. We look forward to the challenge of enhancing your excitement for learning and building your confidence each time you step foot in the classroom. Don't be afraid to make mistakes and test your learning capabilities. This is a positive learning environment and we are here to support you.
To the parents and guardians, thank you for entrusting us with the education and well-being of your children. Your involvement and support are crucial, and by working together, we can ensure your child's success and growth. We recognize the vital role you play in their educational journey, and we pledge to work closely with you to make this academic year the best it can be.
To our exceptional staff, together as a team we are committed to implementing the school's vision and mission into effective practices in the classroom. Each one of you plays a pivotal role in shaping the future of our students. Your passion, expertise, and commitment create positive learning environments that inspire students to reach their full potential.
Finally, it is an expectation for every member of the Eagles family to be responsible, respectful, and safe. I am very excited about the upcoming academic year and the opportunities it holds for our students. Together, as a united community, we will make this year a resounding success.
Sincerely,
Mrs. Van Ruler
Hurd Barrington Principal
Wadean Van Ruler
Principal| Hurd Barrington Elementary
838 Eucalyptus Ave., Newman CA 95360 | (209)862-2585
Newman-Crows Landing Unified School District